Toulouse is indeed one of the most fascinating destinations to book a flight to. It offers fine French cuisine, wonderful architecture, and great gardens to enjoy its quiet side. Toulouse is a perfect destination for couples and families, but what if you knew about a great way to arrive in this area? What many people don't know is that another way to visit Toulouse and this area is to cruise around.
A cruise? Near Toulouse? Ho yeah!!
Toulouse is located almost right in the middle between the Atlantic Ocean and the Mediterranean Sea, a city with many canals, which makes it one of the best destinations to depart from on a cruise. You can either enjoy Toulouse at the beginning or the end of the canal boat trip, it doesn't matter, as long as you enjoy the way, which is absolutely fabulous.  
We invite you to start a boat and go on a trip
One of the best ways to explore the area around Toulouse is to go on a boat trip. In Toulouse's tourists' info, you will find your preferable option: to go on a boat trip in a boat with cabins or to hire a boat yourself.
Our suggestion for a wonderful boat trip is the Canal Du Midi cruise. Canal Du Midi is a 150 mi canal that connects the Garonne (a large river that crosses Toulouse) with the Mediterranean Sea.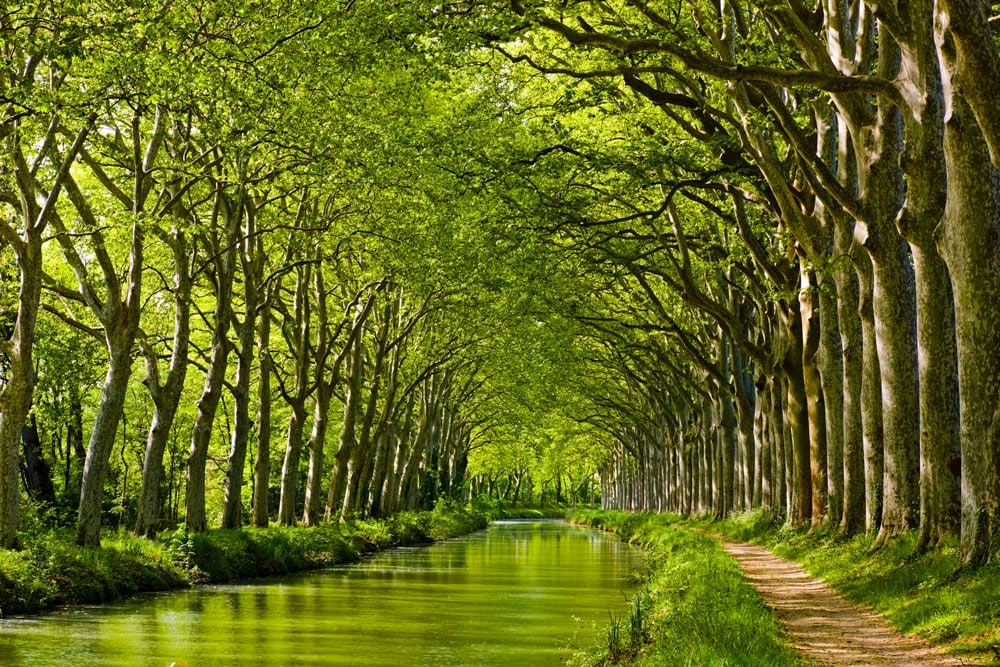 Canal Du Midi – don't go halfway
Canal Du Midi, one of the most popular canals, from which many boat trips depart, is a wonderful way to get to know what's around Toulouse. The canal, with some areas nearby, are in the list of UNESCO's world heritage sites, with locks, bridges, aqueducts, dams, and other structures. 
Take few days off and enjoy exploring this area in a way you never imagined, as this area offers the view of the wonderful natural side with spectacular landscapes of green valleys, white mountains, river, streams, canals, and caves, side by side with classic landscape of ancient cities, Medieval fortresses, and historical landmarks. It also offers great fine cuisine and some excellent wineries.
A heritage for a reason, and much more than that
This canal is one of the canals with most structures, built more than 350 years ago. With riverbanks abundant with trees, and so many different structures and points of interest, you will easily fall in love with this area.
More than 300 canal structures
Just being around this amazing canal makes you wonder about how has it been operating for so many years. You are surely going to know much more about it after the boat trip. As the canal opens for boat traffic, you can enjoy exploring the structures that make this canal one of the most fascinating canals in Europe. From ports to bridges, locks, and dams, you can find it all. 
Sites
Porter Narbonnaise is a tower in Carcassonne, and the main entrance to the Medieval city, built around 1300. This structure is a site worth visiting. It is also highly recommended to be updated regarding the events that take place near this amazing site.
Carcassonne is known for its Medieval citadel and its famous old bridge (Le Pont Vieux bridge) and both make this place a very special one to visit. 
Wine and dine wine
There are SO many wineries in this area, some large and more familiar, and some are family boutique wineries. All of them provide a great wine experience for the wine lovers. Basically, you will probably enjoy every winey you visit. Go and visit as many as you can. Cheers!
Walk and bike
Boat trips offer many ways to explore the riverbank areas. You can either go on a walk or rent a bicycle for a more active experience. Either way, you will enjoy a green, pastoral, quiet area. And yes. We find it quite romantic as well.
Get to know the area in the most special way
For a vacation that you will never forget, for the amazing photos you will take, for the great memories you will make, let yourself go on a boat trip to get to know this amazing area, from Toulouse.