Strasbourg is the largest city of the Grand Est region of eastern France, and it is surely one of the most interesting cities to visit. It is a perfect city for many kinds of vacations and yours as well.
Strasbourg is the official seat of the European Parliament, it has many markets, fine cuisine, historical sites, and is very close to Germany and Switzerland. All these, make it so popular.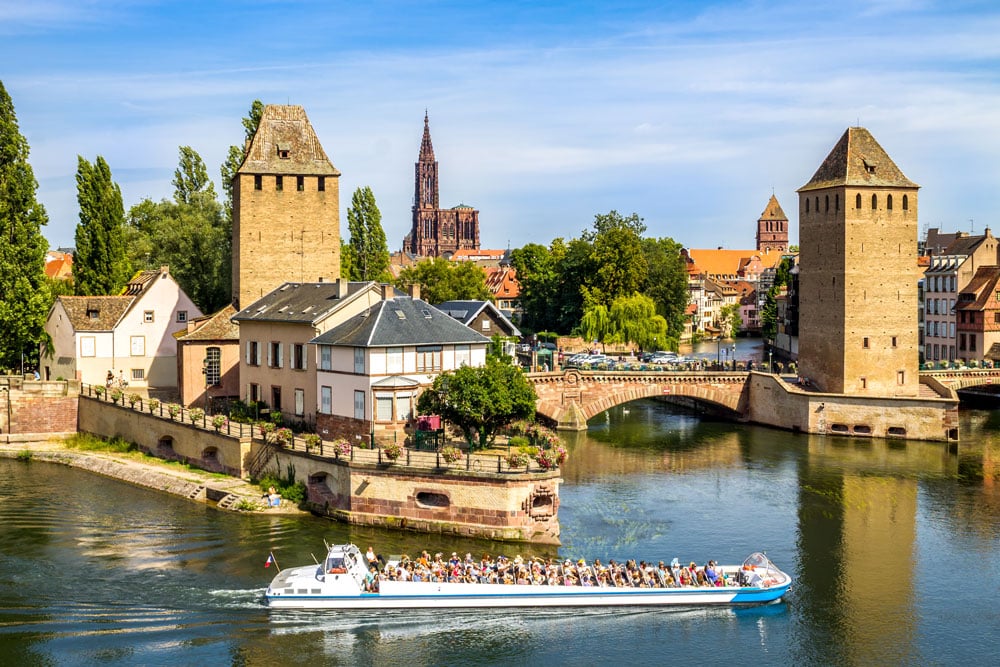 When to visit Strasbourg?
If you want to book a flight to Strasbourg, the best time to visit is between June to August and there are some other months that are either with good weather for a vacation, or with added value, like the Christmas market that takes place during November and December.
All summarized in the next table:
Months and weather conditions for a vacation in Strasburg
Conditions 

Months

Weather

 

Average temperatures*

Average rainy days

Ideal weather 

June – August  

19°- 20°

16-20

Fine weather 

May, September 

14°- 16°

13-19

Reasonable weather 

April, October

11°

14

Least recommended for a visit 

March 

7°

17

Not suitable for a visit 

January, February

3°- 5°

14-16

Worth the visit (regardless weather conditions)

November, December 

4°- 6°

12-17
* Celsius 
Now let's get to know this beautiful, varied destination.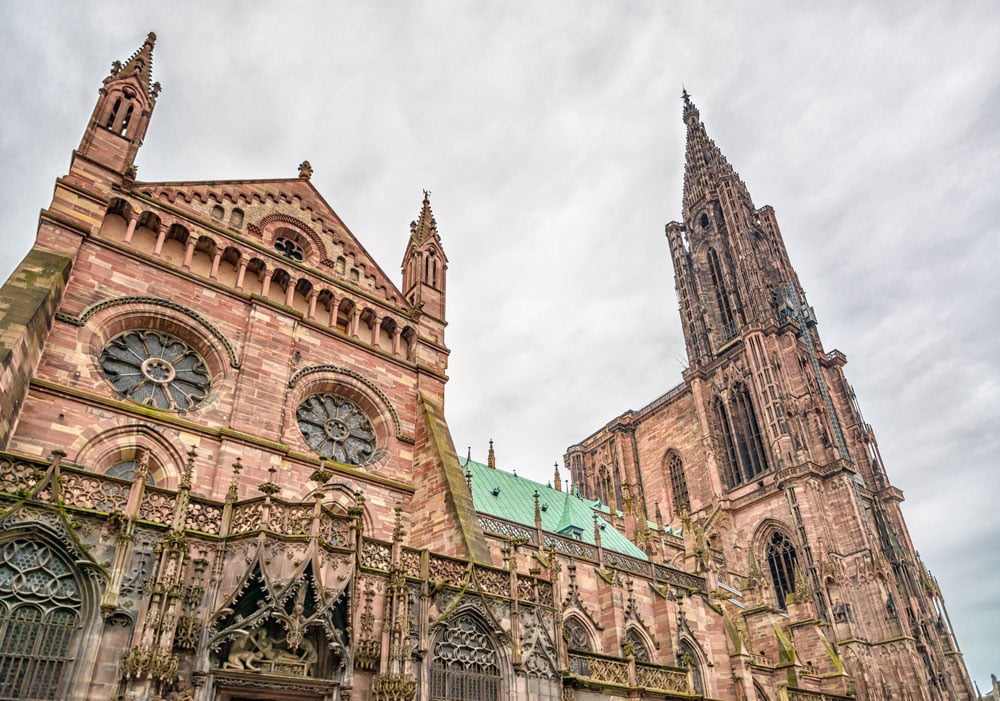 Fascinating Strasbourg to explore.
Strasburg has its own magical environment, much thanks to historical sites such as the island in the Ill River, Grande Île. It has great restaurants and many options to explore around. Here are some places to go and things to do in Strasbourg:
Strasbourg Cathedral, also known as Cathedral of Our Lady of Strasbourg, Cathédrale Notre Dame de Strasbourg, is one of the most famous structures in Strasbourg and the oldest Gothic cathedral in the world. It is an outstanding cathedral, built from reddish bricks and decorated with spectacular stained-glass windows.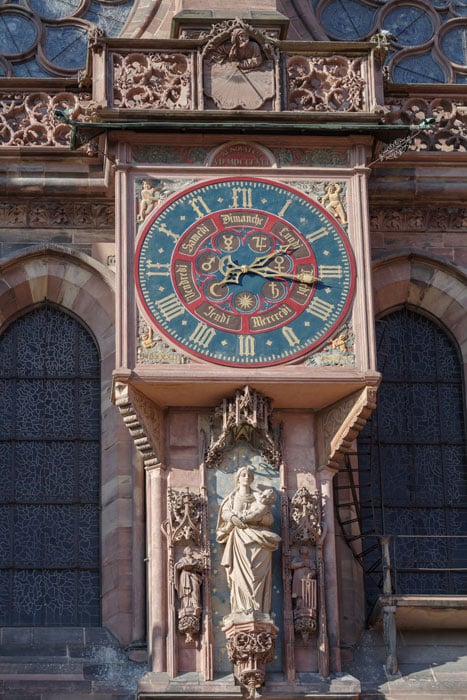 of the cathedral becomes the main attraction, every day at half past noon with its animated figures.
The Covered Bridge, Ponts Couvets
A set of 3 bridges and 4 towers on the Ill River. This site allows you to watch Strasbourg from a very special point. Don't miss the experience of looking at the bridge from afar, and look at the city from the bridge.
The Science Center of Strasbourg - Le Vaisseau
This center is recommended mainly for kids between the ages of 3-15 but will bring great pleasure to all science enthusiasts. 
Beautiful, picturesque quarter, with historical bridges, houses, streets, and canals. Petite France forms part of the UNESCO World Heritage Site of Grande Île, designated in 1988 and one of your vacations' "must dos". You will also enjoy this area's Alsatian restaurants, and many fine Cafés.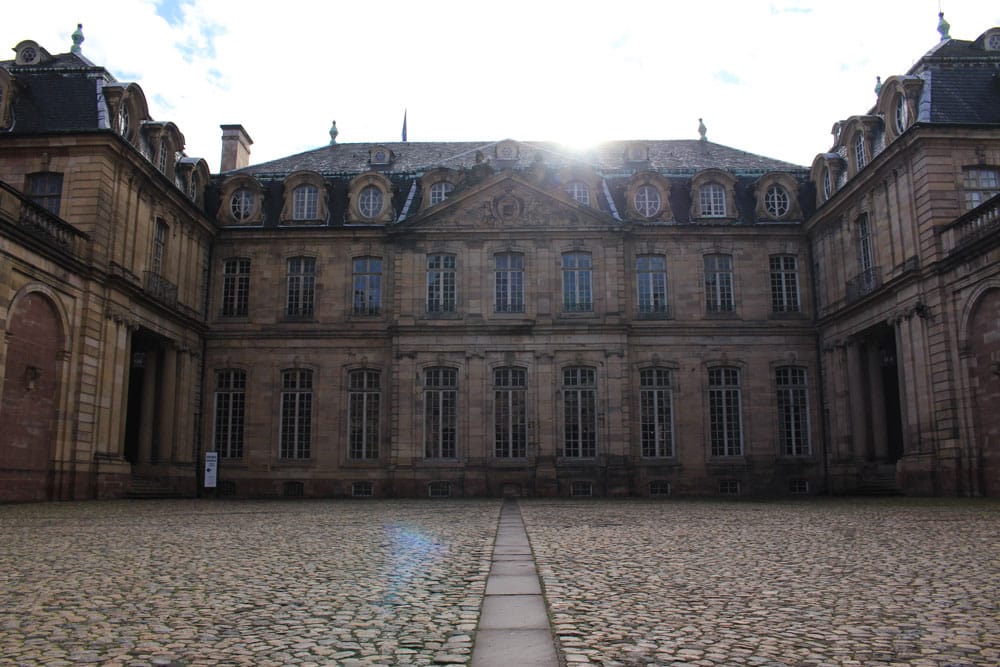 The Rohan Palace, Palais Rohan
This palace, with 18th century architecture, is a major landmark in French 18th century architecture, between Ill River and the Cathedral of Strasbourg.
This impressive palace is now the home of three museums: 
Archaeological Museum 

Museum of Fine Arts
Vauban Dam – great view and the best location to take fabulous photos
This is a dam that was built around the 17th century to defend Strasbourg from invaders through its capacity to flood the southern access to the city. The dam has 13 arches and a panoramic terrace that offers a wonderful view of Petite France, the Cathedral, and The Museum of Modern and Contemporary art. This rooftop terrace offers one of the most fabulous spots for picture taking in Strasbourg.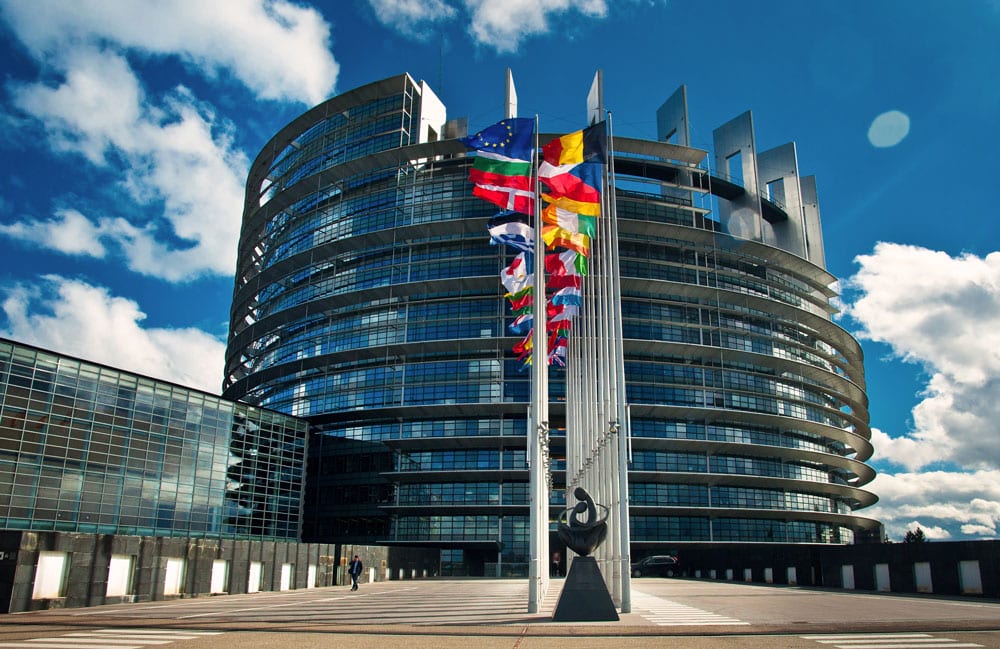 European politics in Strasbourg
Strasbourg is the home of several European institutes, such as:  
The Council of Europe

The European Parliament

The European Court of Human Rights
All of them are significant political institutes for the entire Europe. The parliament's building is not only very impressive from outside, but also from its inside and the guided tours are recommended. 
Let's go outside. Explore Alsace
You can either rent a car or join one the daily tours to Colmar in France, Baden-Baden in Germany, and other wine villages. Since Strasbourg is one of the vertices of the triangle between France, Germany, and Switzerland, the options are countless; Alps, the Black Forest and many other sites are close to this great location. 
Various museums, everyone can find one to love
Strasbourg offers many and vary museums
Some of the great but less known museums in Strasbourg:
The Mineral Museum

The Seismology Museum

The Voodoo Museum 

The Pixle Museum of video games
Some of the most known museums in Strasbourg are:
The museum of contemporary art, Musée d'Art Moderne et Contemporain de Strasbourg, has a collection of sculptures and useful art from Impressionism till today, including art pieces made by Picasso, Monette, and others. 
The Alsatian Museum, Musée Alsacien, displays an exhibition of 30 rooms that show the every-day life and cultural life in the villages of Alsace from the 7th century to the 19th. 
Museum of Decorative Art, Musée des Arts Décoratifs, located on the 1st floor of The Rohan Palace and offers a wonderful view of rooms with Baroque and Rococo furniture, wall carpets, porcelain art pieces and more. As mentioned, there are two more museums in The Rohan Palace: Archaeological Museum and Museum of Fine Arts.
The green side of Strasbourg
If you want to take a break from your city traveling, pay a visit to The Orangerie Park, Parc de l'Orangerie, to enjoy Strasbourg's quiet side. With great lawns, many green trees, skate park and many other opportunities. Remember, that sometimes, just to sit on a bench and enjoy the atmosphere would suffice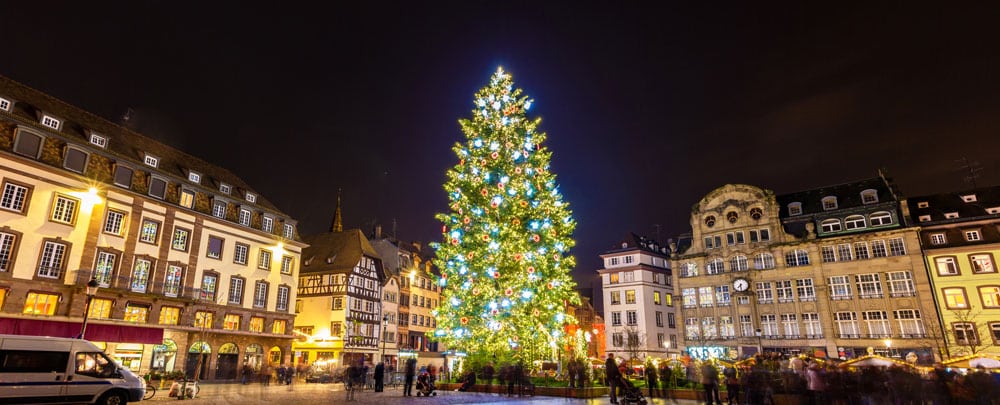 Magical Strasbourg during Christmas Market
Even if it's cold, Strasbourg is worth visiting during the Christmas market, dated between the end of November and the end of December and takes place on the front square of Strasbourg Cathedral. Strasbourg is absolutely stunning during this time of year, with the oldest Christmas market in Europe and exciting festive spirit. Strasbourg wears magic and it looks like a fairytale city.
During the day you can walk around the market, enjoy the festive spirit, decorations, and atmosphere, as well as fine street food and drink. The magic happens during the nighttime, when the evening falls, and everything is both decorated and illuminated
Fine Cuisine in Strasbourg
When you book a flight to Strasbourg, you can know, for sure, that no matter what your vacation is all about, the food is going to be GREAT.
Alsatian cuisine is based mostly on pork with French and German influences. You may find all sorts of local dishes in the local restaurants and you can also enjoy the top-notch cuisine of Michelin starred restaurants in one of the starred restaurants in Strasbourg.
Bike, boat, or walk – do Strasbourg your way
Choose your way to explore all Strasbourg faces.
Get to know the city by Cycling
Strasbourg is a very picturesque city that can easily be enjoyed, by peacefully cycling around. With more than 600km cycle paths you will find it very convenient. You can rent bicycle for short or long term, in store or at automatic docking stations 24/7 using Vélhop services, the offers:
20 automatic docking stations

5 stores

6,800 bikes, including 450 electrically assisted bikes
So, pick up a bike and enjoy your vacation.
Enjoy a boat tour
Usually, it is a 1-1.5 hour tour in which you can listen to recorded information regarding the landscapes, the old city and many sites along the way. There are all sorts of different boats and tours at different prices. It all depends on the purpose of your tour, and if you want to have a nice tour by boat, the 1-1.5 hours tour is sufficient.
Just take a walk around
Strasbourg is an easy city to get around. Walking in the area of the center of town and most sites and attractions is about 1 hour walk max. Walk along the streets and alleys, get lost in this magical city and let the way take you around. Wherever you go, it will be beautiful. 
Strasbourg is a great destination for many kinds of vacations; family vacations, romantic vacations and it is also a great location to book a flight to for a weekend or more. It can also be your starting point when exploring Alsace. You will find so much to do and see, so having your next visit here is almost a fact already.