Strasbourg has so much to offer, and the best time to visit is between June to August with ideal weather. However, there are some more months with fine weather, and there are months that are worth visiting Strasbourg regardless of the weather conditions, such as December, during the Christmas market.
If there are only a few sites you are going to visit, or things you are going to explore in Strasbourg, this list is just for you.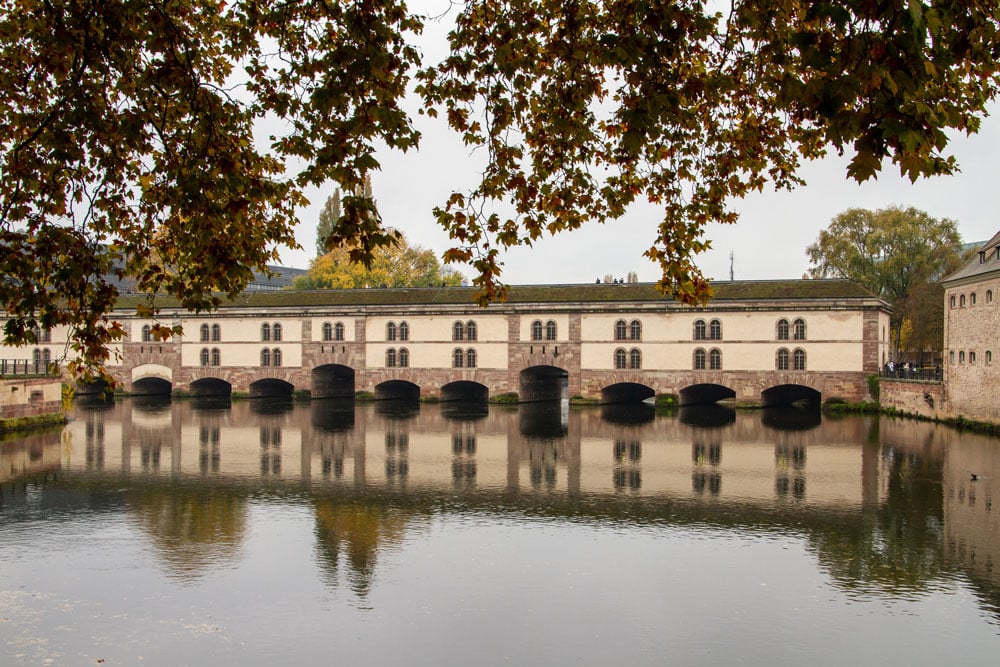 1. Vauban Dam – The perfect spot for a stunning photo
We usually record our memories from a vacation or a trip by taking photos, these days we even do it during the vacation. If you want your vacation to be remembered by a fabulous photo, you should take it from the Vauban Dam.
The Dam was built to defend Strasbourg from invaders through its capacity to flood the southern access to the city. The dam has 13 arches and a panoramic terrace that offers a wonderful view of Petite France, the Cathedral, and The Museum of Modern and Contemporary art. 
2. The Cathedral of Our Lady of Strasbourg and the Atsronomical Clock
This cathedral, Cathédrale Notre Dame de Strasbourg, has become one of the city's symbols and even a symbol of the entire Alsace, as it can be seen even from afar, even from the Black Forest on the other side of the Rhine River.  
This Gothic cathedral was best described by Victor Hugo as a "gigantic and delicate marvel" and it is indeed such a marvel.
Note that The Astronomical Clock of the cathedral becomes the main attraction, every day at 12:30, with animated figures.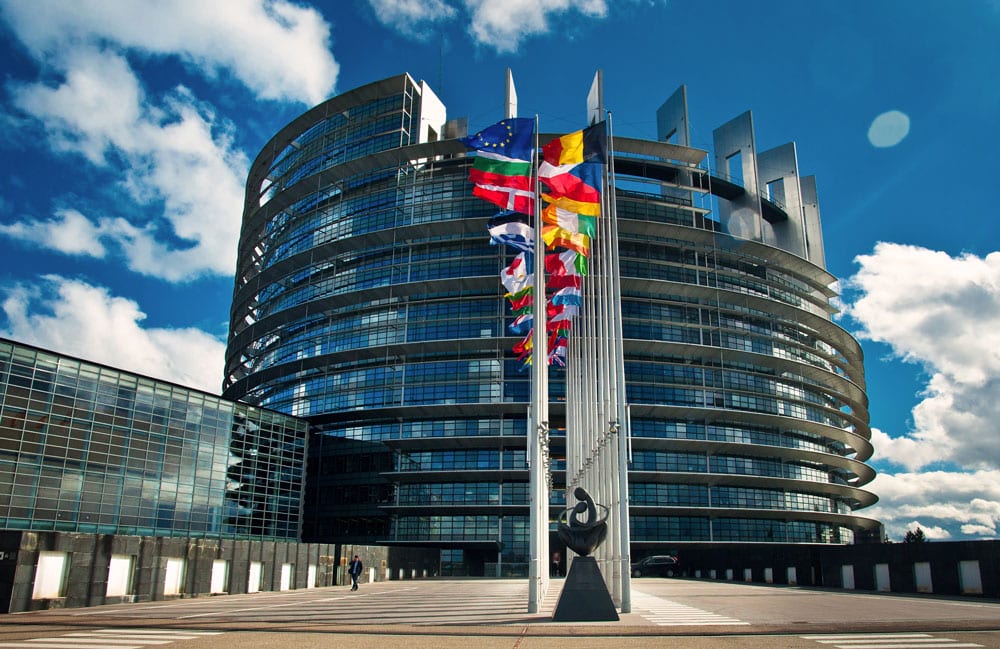 3. The European Parliament
This official seat of the European Parliament is in Strasbourg and offers tours and exhibits. You can also find two more important European institutes located in Strasbourg: The Council of Europe and The European Court of Human Rights, so whether you like politics or like Europe and even if you love fine architecture, you should visit these beautiful important institutes.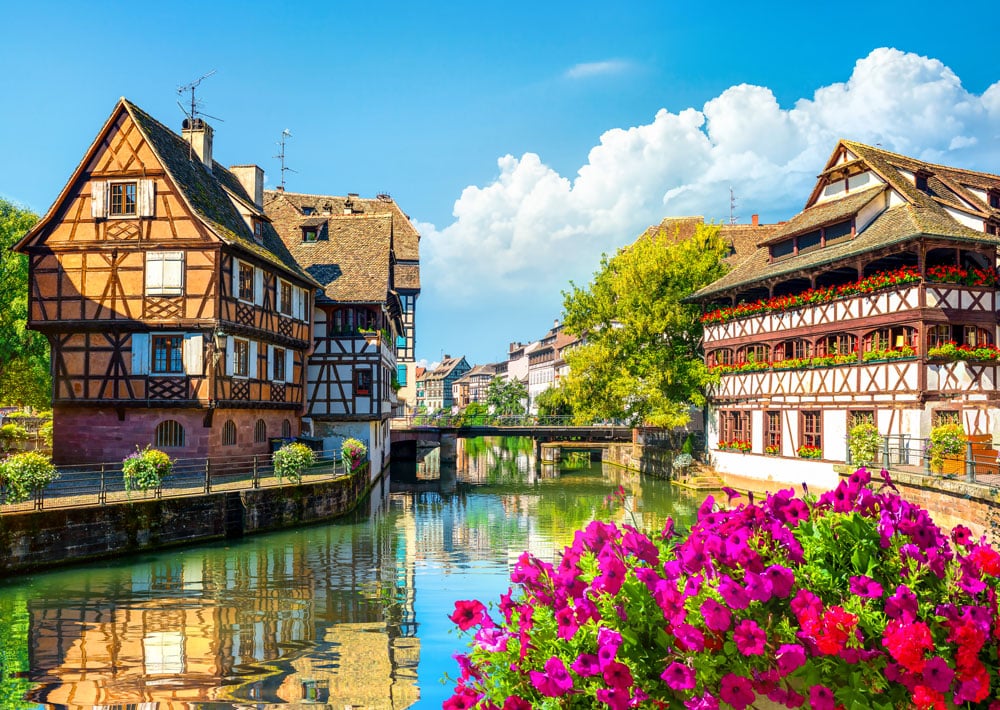 4. Little France, Petite France
Beautiful, picturesque quarter, that you can easily reach by the clear signs and with the map you can have from the Strasbourg Tourist Office. This is the historical area of Strasbourg, and it is a beautiful area, with flowers, 16th and 17th century houses on the river and its canals, bridges, dams, and magical alleys to walk around.
Most of the district was destroyed during World War II and in 1970 it was decided to restore it and bring its previous magic back to life once more. Today, you may see restored houses and streets.
Petite France forms part of the UNESCO World Heritage Site of Grande Île, designated in 1988 and it is a quarter you must explore on your vacation to Strasbourg.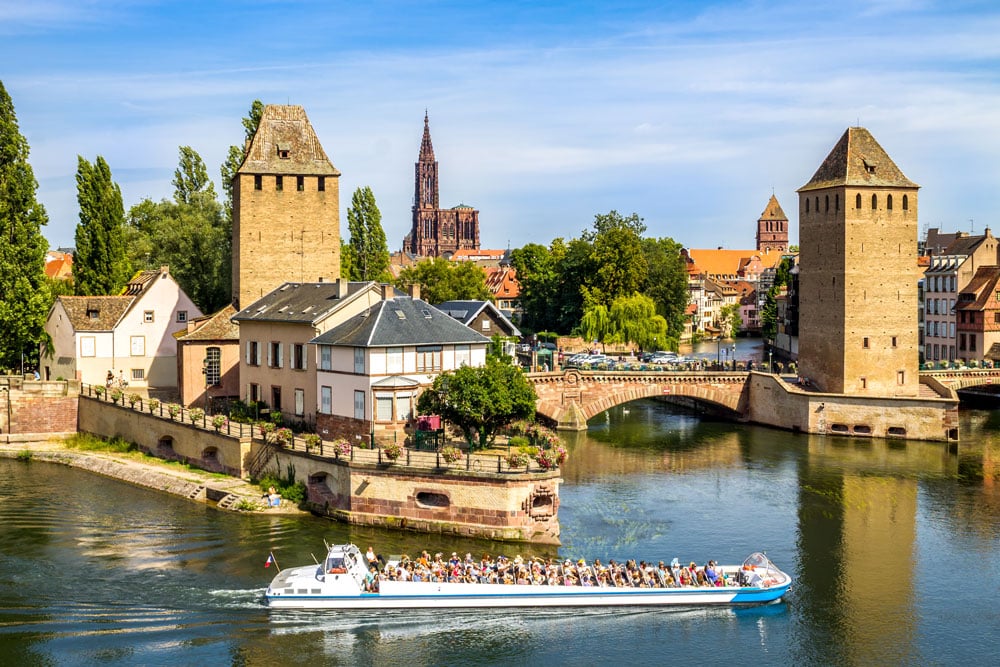 5. The Covered Bridge, Ponts Couverts
In the extension of the Petite France district, you will find the Covered Bridge, Ponts Couverts. This beautiful place is a set of three bridges that cross four river channels of the Ill River and four towers that altogether comprise a great defense mechanism built in the 13th century, supported by the Vauban Dam. The bridge was covered by a wooden roof, to protect the defenders stationed on it, and although the roof is long gone, the name of the covered bridge is still in common use today. 
3 more experiences. How to explore, what to attend and what to experience 
After noting the best 5 sites of Strasbourg, this is the time for some more experiences. The following are not sites, but a way to have a great sightseeing, an event to attend, and an experience. 
Here are 3 more things you shouldn't miss while in Strasbourg:
1. How to explore: A boat trip on the Ill River
You can see many sites during this boat trip, which is a great way to decide which of them to visit after the tour. Usually boat tours take about 1 hour and a digital audio guidance is available.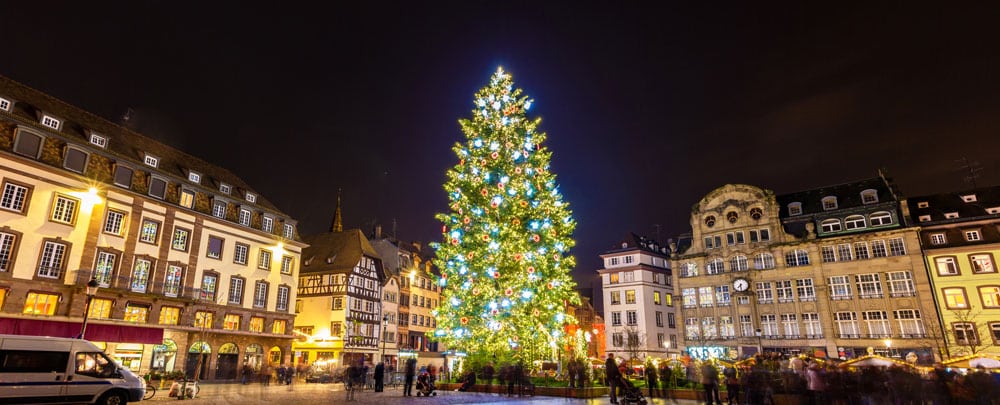 2. What to attend: Christmas Market, Christkindelsmarik (Nov-Dec)
Strasbourg becomes a fairytale place during this time of year, with magical decorations and festive spirit. The Christmas market is the oldest in Europe and it is recommended to walk around the market, where beautiful decorations are sold, and to have some seasonal street food and drink.
The famous Christmas tree is usually set in the central square, Place Kléber. It is luminated, decorated and it is about 30 meters tall!
If walking around Strasbourg and the Christmas market during daytime is a fabulous experience, don't miss this amazing sight during nighttime, when all decorations are luminated and buildings, squares, canals, and other sites are decorated for Christmas.
Every year, some special events take place during this time, and it is recommended to find out all about them in the Strasbourg Tourist Office before your arrival. 
3. What to experience: Fine Alsatian Cuisine 
The local cuisine is based mainly on pork with strong German influence. 
Local food you should try:
Choucroûte garnie

is THE Alsatian dish of choucroute served with boiled potatoes and a variety of meats, on cabbage that was cooked in wine or beer.

Tarte flambée

is a dough covered with cream fresh, cheese, onion, and bacon. It is the French better pizza version, as it is baked quickly to get crispy.

Bretzels

are fresh baked pretzels served with melted cheese and with smoked salmon or ham. To have a breztel with hot wine on a cold winter day at the Christmas market is a delight.
The Alsatian cuisine is varied, and these were only three typical dishes, and you have many other great Alsatian dishes to experience. It is also recommended to try the great local Alsatian wines and beers.
[Shutterstock Item ID: 2055722678: Tarte flambée. The French better pizza version]
Strasbourg is a colorful, magical destination that you can easily explore. There are many sites and sights to enjoy in Strasbourg, and the above top 5 + 3 experiences surely summed it up in a way. Now, go on a vacation in Strasbourg, it can either be a short one or a long one. No doubt that you will find Strasbourg fascinating either way.