Are you dreaming of a winter escape that combines affordability, luxury, and a touch of Mediterranean magic? Well, the holidays are just around the corner, and it's a great time to start wondering what would be your next holiday paradise destination!
If you ask us, the answer lies in Cyprus.
An island with breathtaking landscapes, stunning beaches, friendly people, and delicious cuisine, and yes, it's just 4 hours away and visa-free for emiratis! 

What is the best way to fly from the UAE to Cyprus?
With TUS Airways the Cypriot airline.
It provides many flights departing from Dubai to Larnaca with special abilities to shape your next vacation timing.
Every amazing vacation begins with choosing the right flight. 

Cyprus: What should you know?
Flight Time:

Only a 4-hour flight from Dubai to Cyprus!

Time Zone:

Cyprus is an hour behind Dubai, minimizing jet lag.

Maximum Relaxation:

Cyprus is full of beautiful Mediterranean coastlines with crystal-clear waters and pristine beaches.

Not only beaches

: But also historical sites, ancient ruins, Byzantine churches, and medieval castles.

Happy stomach

: seafood and halloumi cheese are just a few of the must-try dishes of Cyprus cuisine!

It's always a good time to vacation in Cyprus:

year-round comfortable weather for vacation!

Family-Friendly:

families will enjoy water parks, nature reserves, and interactive museums.
Cyprus' Visa Q&A for Emiratis
Easy! UAE passport holders visiting Cyprus does not require a visa. As part of the Schengen Area, Cyprus is visa-free for UAE citizens.
A maximum of 90 days within a 180-day period. You'll have plenty of time to explore the exciting attractions and sights that Cyprus has to offer!

When it comes to accommodation in Cyprus, the choices are as diverse as the island itself.
Whether you're drawn to the bustling streets of Limassol, the historical charm of Larnaca, the vibrant atmosphere of Nicosia, or the tranquil beauty of Paphos, in Cyprus you can find a wide range of lodging options to suit your preferences. 

Find your ideal hotel in these areas:
Limassol offers luxurious beachfront resorts with stunning sea views.
In Larnaca, international hotel chains are mixed with boutique hotels.
In Nicosia the capital, you will find modern hotels that are ideal for both business travelers and culture lovers.
In Ayia Napa, known for its vibrant nightlife, there are a variety of accommodations to choose from, from beachfront hotels to lively resorts.
Paphos offers a range of accommodations, from family-friendly resorts to charming guesthouses with its historical sites and natural wonders.
In Protaras, known for its pristine beaches, you will find beachfront hotels as well as holiday apartments.

Why is winter the best time to visit Cyprus?
Budget-friendly timing: When winter comes, accommodation and flights become more affordable.
Ideal Climate: The mild winters of Cyprus provide a comfortable getaway 🙂
Cool Adventures:  Isn't it nice to hike, enjoy nature walks, and explore historical sites without the intense heat?
Cyprus: What to see and where to go?
Limassol: history, culture, and culinary
Would you like to experience authentic Cypriot culture and history? The charming city of Limassol is the perfect destination for you.
With numerous museums and archaeological sites, Limassol is renowned for its historical significance.
Limassol's old town district is a genuine and captivating place where you can find the popular tourist attraction, Limassol Castle.
What to do in Limassol? Limassol doesn't stop at history; it offers a variety of experiences. Wander through traditional workshops, lose yourself in the charm of historical markets, and indulge in retail therapy at delightful shops. As the day transitions into night, savor the local flavors of Limassol at its welcoming cafes, bars, and restaurants.
Don't miss these:  Limassol Marina, Fasouri Watermania Water Park, family-friendly Limassol Zoo, and the ancient wonders of Kourion.
The capital Nicosia: Culture, history, and urban vibes
Interested in learning more about Cypriot culture and history?  
Exploring Nicosia's museums and archaeological sites will offer a glimpse into the island's heritage.
Explore vibrant traditional markets, discover hidden gems in local shops, and relish the warmth of the city's cafes, bars, and restaurants.
Don't miss these:  Check out  the local art scene at the Leventis Municipal Museum or just relax in one of the city's picturesque parks.

Ayia Napa: The nightlife scene
Looking for a night to remember? Ayia Napa, predominantly centered around Nissi Beach, is where the action is, and it's perfect for the younger crowd looking for an exciting nightlife.
In the area, you'll find a variety of nightlife clubs, each with their own unique party experience.
Don't miss these:  The Lounge Club, Castel Club, Soho Club, Black N White Club.

Paphos: UNESCO World Heritage Site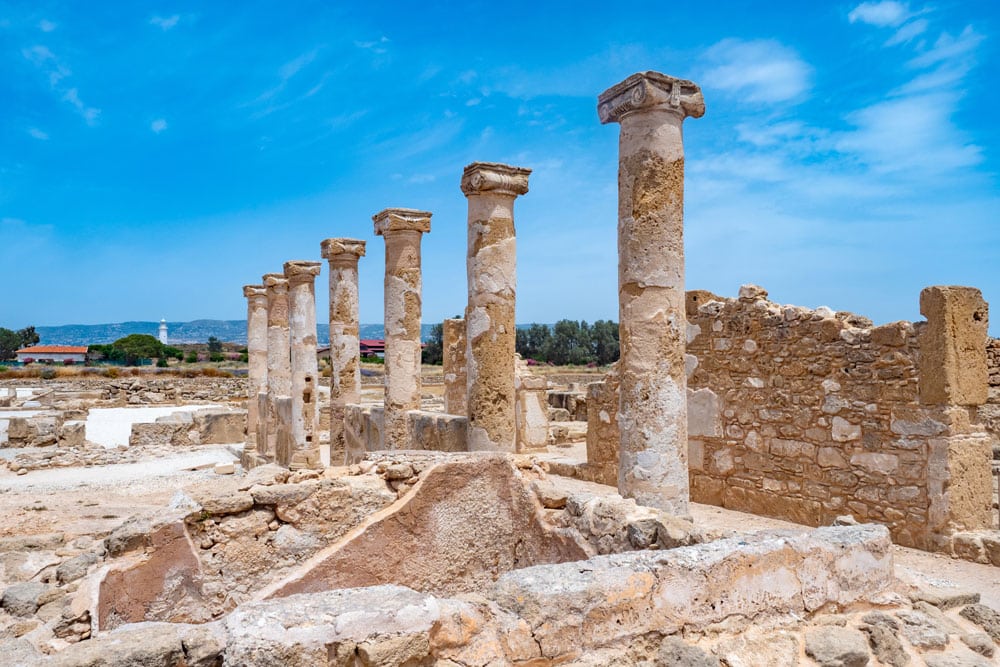 Are you looking for a place that blends history, culture, and natural beauty?
The UNESCO World Heritage site boasts mosaic-covered Roman villas, ancient theaters, and the awe-inspiring Tombs of the Kings.
Paphos' golden beaches meet the Mediterranean's crystal-clear waters, making it a paradise for sunbathers. Traditional Cypriot tavernas and picturesque vineyards producing some of the island's best wines make it a culinary lover's dream!
Don't miss these: Paphos Archaeological Park, Paphos Castle, Paphos Aphrodite Waterpark. 

Protaras: A Coastal Paradise
Are you looking for a place to chill out and do nothing while watching an amazing view? Known for its pristine beaches, azure waters, and serene ambiance, Protaras embodies the essence of a Mediterranean paradise. Sunbathing, swimming, and water sports are all available along miles of sun-kissed shores in this charming resort town full of restaurants, cafes, and shops and also vibrant nightlife!
Don't miss these: The famous Fig Tree Bay, The national park Cape Greco. 

With short flight durations, stunning beaches, rich history, and delicious cuisine, now is the perfect time to book your flight to this paradise island known as Cyprus.