Lyon is the second largest metropolitan area in France (after Paris). Unlike Paris, it offers a more calm kind of vacation, with all the big city's pleasures. 
Many tourists from all around the globe choose to enjoy a vacation in Lyon, that offers one of the best French cuisines, beautiful ancient city, two large rivers, museums and more (did you know that the INTERPOL's headquarter located in Lyon?). 
If you are looking for a reason to book a flight to Lyon, here some reasons, and tips.
Lyon is welcoming most year long, and the best months to book a flight and have the best vacation in Lyon is between May to September.
Between 

May to September

 with 14°-21° and about 15 rainy days is indeed the best time of the year to visit Lyon.

April and October

 are quite good for a vacation in Lyon: with an average of 11° and about 14-18 rainy days

March

 is reasonable for a visit with an average of 8° and about 19 rainy days

December, February, and November

 are least recommended for a visit: with an average of 4°-8° and about 14-19 rainy days
Note that the Festival of Lights (Fête des Lumières) takes place in December
January

 is not recommended for a visit: with an average of 3° and about 19 rainy days 
What to see and where to visit?
Old Lyon (Vieux Lyon) is one of the most popular sites in Lyon. It is the largest Renaissance district of Lyon and it offers great views of ancient architecture, small, beautiful streets and alleys, churches, and statutes.
While visiting the old city of Lyon, it is highly recommended to walk through the long traboule (La Longue Traboule). Traboules are secret passageways, staircases and corridors that connect the two most important streets of this area, this is a great spot to joyfully get lost at, and get into the Renaissance atmosphere.
Fourvière hill is the top area around, which on top, you will easily notice the impressive Basilica of Notre-Dame de Fourvière (La Basilique Notre Dame de Fourvière), decorated with great mosaics beautiful stained-glasses.
If you are a marine life enthusiast, you must pay a visit to Aquarium Lyon, which is a huge aquarium with many areas of all sorts of fish and marine life and even some sharks. Amazing place to visit.
Lyon offers many kinds of museums, so whatever kind of art you relate to, you will probably find it in a museum in Lyon. One of the museums, is the Museum of Fine Arts of Lyon (Musée des Beaux-Arts de Lyon) which is one of the most important museums in France, after the Louvre, with Egyptian antique items, Italian Renaissance art, as well as Impressionism and modern art.
A museum that offers temporary exhibitions and mainly local artists is the museum of contemporary art (Musée d'Art Contemporain), which is a candy for the contemporary art lovers.
You may also find more unique museums which are not less recommended, such as the Lumiere Institute (Institut Lumière), which is a museum dedicated to the contribution of the Lumiere brothers to the cinematic world. This museum also holds many special events, such as screening of silent movies with live orchestra and musicians.
Let's walk on the quiet side
Take a walk in the park, a tour on a bus or a local boat trip, to enjoy exploring Lyon in a relaxed way.
Boat trips on the Seine (Saône) and Rhone (Rhône) can offer a great view of Lyon's sites and sights. There are all sorts of boats and trips: one hour or few, with or without dinner, and many other options from which you can choose the one that suits you the most.
You can take a quick sites-seeing tour on Lyon's tourists' bus with more than 10 stops in different important and beautiful sites.
The Golden Head Park (Parc de la Tête d'Or) is the largest urban park in France. It offers great urban nature, in the northern part of Lyon. Many statutes with great lawns, around a big lake, so you can walk, bike or to row a boat in the lake. There is also a botanic garden, a rose garden, and a zoo. 
Lyon Light Festival (Fête des Lumières) is one of the most famous events that takes place in Lyon every December (around the 8th). During the Light Festival, Lyon become colorful, enlightened, and crowded, decorated with lights everywhere: squares, bridges, tunnels, etc. This is a breathtaking! Being in Lyon during the festival is a unique experience. 
During the days of the festival, many other events take place in Lyon, and it is recommended to look for more information before you book your flight or schedule your vacation. 
Wherever. Lyon is considered as the culinary capital of France. If you love fine French cuisine, you will LOVE Lyon, the home of more than 1,000 restaurants, that about 20 of them are Michelin starred.
Side by side with those fine restaurants, there are also 'Bouchon Restaurants', which are traditional local restaurants.
Some traditional dishes:
Chicken in wine, 

Coq au Vin

: chicken cooked in wine with mushrooms and garlic

Lyonnaise potatoes, 

Pommes de Terre à la Lyonnaise

: round slices of potato fried in butter

Lyonnaise salad, (

Salade Lyonnaise

: lettuce, bacon, croutons, and poached egg.
Some famous deserts:
Praline tart, 

Tarte à la Praline

: a pink tart with nut cream stuffing and candied nut chips 

The cushion of Lyon, 

Le Coussin de Lyon

: marzipan candy filled with chocolate ganache. 
Best tips for the best vacation in Lyon
If you are going to stay around for few days, here are some valuable tips for you:
Lyon's main airport is Lyon-Saint Exupéry Airport.
There is also a TGV station in Lyon, which is a very convenient way to get either to Lyon or to the next destination.
Lyon city card is Lyon's public transportation, boat trip and museums card. 
Lyon also has Metro and Tram.
You can also tour around with a rented bicycle.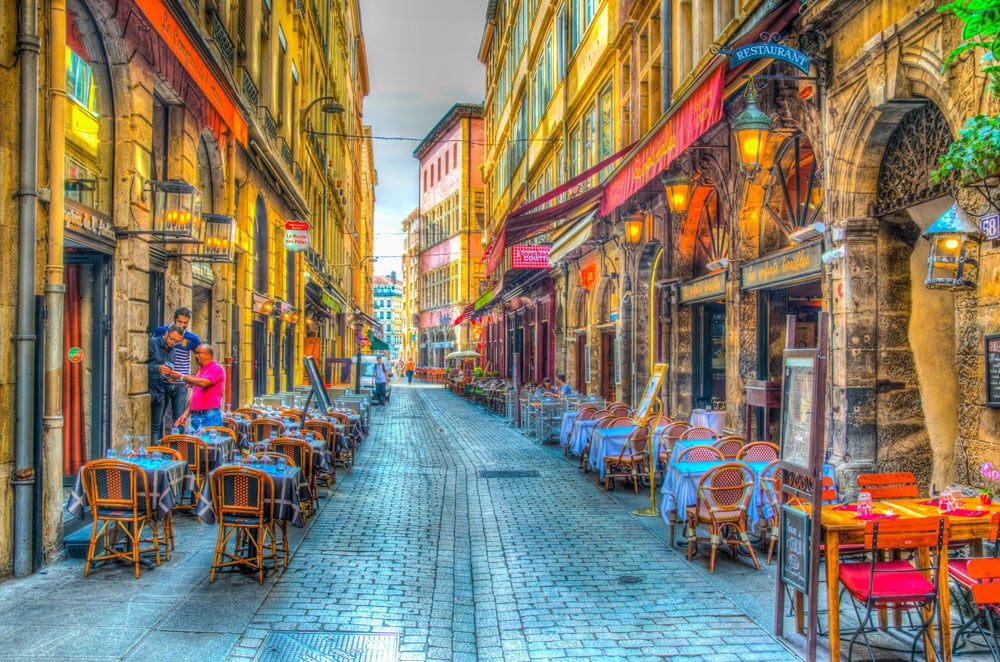 A word of advice: if you are staying in Lyon long enough, take a few days off, and go on a wine tasting tour in Beaujolais Province. You will not regret it.
Lyon is like Paris's little romantic, kind of "countryside" little sister. If you want to enjoy one of France's best cuisines, or to walk around old cities' mysteries, this location is your next best destination. Book a flight and enjoy.