The capital city of Jordan is a mix of modernity and tradition. An energetic metropolis that blends everything. A city of contrasts that combines ancient ruins with sleek skyscrapers and traditional markets with trendy cafes and shops.
Amman also offers a rich history (like thousands of years!) as it played an important role in shaping the region's culture and identity.
If you are a traveler looking to experience the best of the Middle East, from its delicious cuisine to its fascinating historical sites, keep reading… Amman may just become your next vacation destination.
 Because of its rich history

, it offers a glimpse into diverse ancient civilizations.

 

Because of the lively urban scene

, a thriving arts and music scene, trendy cafes and restaurants, and bustling markets.

 

Because of the culture

, Amman is home to many art galleries, museums, and theaters.

 

Because this is a great base

for exploring other parts of Jordan, such as Petra, the Dead Sea, and Wadi Rum.

 Because of the architecture

, a stunning blend of traditional and modern styles.

 Because of the friendly locals

eager to share their culture and customs with others.
Larnaca to Amman flights will soon be available!
TUS Airways will open the gates to this unique destination in June 2023.
And the good news? There is only one hour of flight time between Larnaca and Amman.
Must-see attractions in Amman
Amman Citadel
This is the top attraction in the city and might be the most beautiful.
Located on Jabal al-Qal'a ("the castle hill"), this place attracts thousands of visitors yearly, and for a reason! Where else can you see ruins from the Bronze Age, Roman era, and Islamic era all in one place?
The Roman Amphitheater
Iconic landmark, built in the 2nd century AD, and offers a glimpse into the city's rich history. The amphitheater is one of Amman's most important historical sites, symbolizing the city's enduring cultural legacy.
We recommend visiting the stage ruins and seating areas to get a feel for what a performance must have been like thousands of years ago.
Jordan Archaeological Museum
This place is a must-see for any of you interested in archaeology, history, and culture, allowing you to explore pottery, statues, and jewelry from Jordan's ancient past.
Rainbow Street
Full of cafes, restaurants, shops, and galleries, it is very evident why this street is popular with tourists and locals alike. Located in the Jabal Amman neighborhood, it's filled with vibrant colors, amazing food scenes, sounds, sights, and smells – Rainbow Street is a hub of activity day and night!
King Abdullah Mosque
This mosque was built in honor of King Abdullah I, the founder of modern Jordan, and became one of the iconic sites in Amman. You can actually see his distinctive blue dome from many parts of the city, but it doesn't replace a visit to see its beautiful blend of traditional and modern architecture.
The old market of Amman Al Balad
If you want to experience "the real Amman," you should visit the market downtown! A variety of crafts can be purchased there, along with a glimpse of local culture. The market offers handmade pottery, spices, textiles, and so much more, offering everything you can imagine.
You are about to fall in love with Jordanian cuisine!
The food in Amman is some of the best in Jordan, famous for its delicious and varied flavors.
Make a note of those must-tries: Mansaf (a traditional dish of rice and meat), Musakhan (chicken cooked with sumac and onions served on taboon bread), Falafel (delicious deep-fried chickpea balls). Sweet lovers? No worries – Amman's pastry shops offer a variety of sweets like Knafeh (a warm dessert made from shredded phyllo dough and cheese) and Baklawa (filo dough layered with chopped nuts and served with syrup). Yummy!
Plenty of hotels and hostels are waiting for you!
Amman offers options that suit every budget and preference, whether you are looking for luxury, mid-range, or low-cost accommodations.
Since the city has hot and dry summers and cool winters, the best time to visit is during spring (March to May) or fall (September to November), which are mild and pleasant times of the year.
With a low crime rate, a stable political environment, and well-connected public transportation, Amman is a safe and welcoming destination.
Summing up
Whether you want to explore its rich history or just enjoy its vibrant atmosphere, from Amman's must-see landmarks to its delicious cuisine – Amman has something for everyone.
So what are you waiting for? Let's book your next flight with TUS airways to Amman.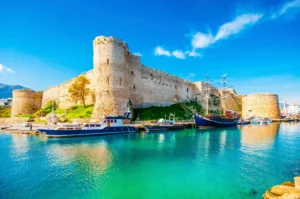 Are you dreaming of a winter escape that combines affordability,
Read More »
You might also be interested
Are you dreaming of a winter escape that combines affordability, luxury, and a touch of Mediterranean magic? Well, the holidays are just …