It is known as the "Island of Venus". Taking into account the sunny weather, the amazing food, the great history, the long stretchy beaches, and you will get a remarkable holiday resort destination.
So now that the pandemic is long gone and countries are reopening their borders, it has never been easier flying directly to Larnaca with TUS airlines. it is a great time for beach seekers, food fanatics and hiking adventures to come together and explore the beautiful and exquisite island of Cyprus.
Larnaca is a great hub to the nearby shoreline cities such as the city of Limassol, the vibrant resort of Ayia Napa, the endless shoreline resort of Nissi and other extraordinary small villages and shore towns.
They say that no matter how old you are, you will find desirable attractions in Cyprus. The southern part of Cyprus blends well with the country's rich history along with endless forests suitable for hiking. You will also find many religious monasteries, bike trails and luxurious hotels with busy nightlife for the young in spirit.
Cyprus is an all-year long holiday destination. In the mild winter season from December to February, the Troodos snowy mountain summits welcome ski lovers and winter sport adventurous. But don't worry! The sun also shows its face in the cold winter days, so you can still stroll around and even enjoy the great outdoors. From mid – May to October, the country enjoys a splendid Mediterranean climate with clear blue skies and a pleasant breeze in the coastlines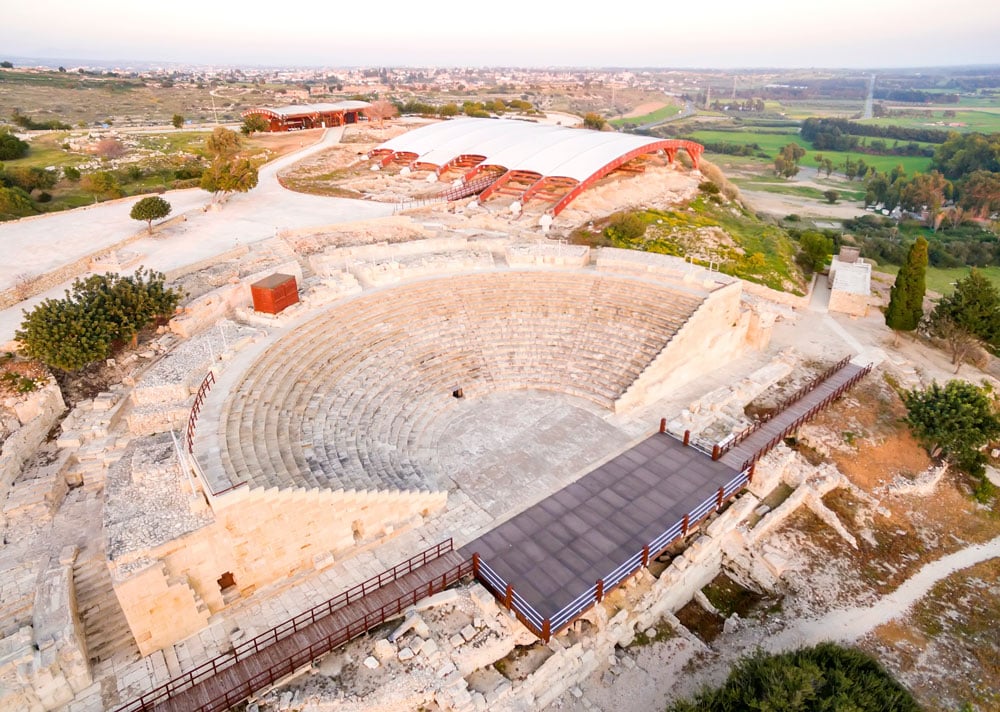 I'm in Cyprus. Where should I go?
This route goes through all lengthwise major spots of the island. From Ayia Napa in the east through the Troodos mountains and up to Akamas peninsula in the west.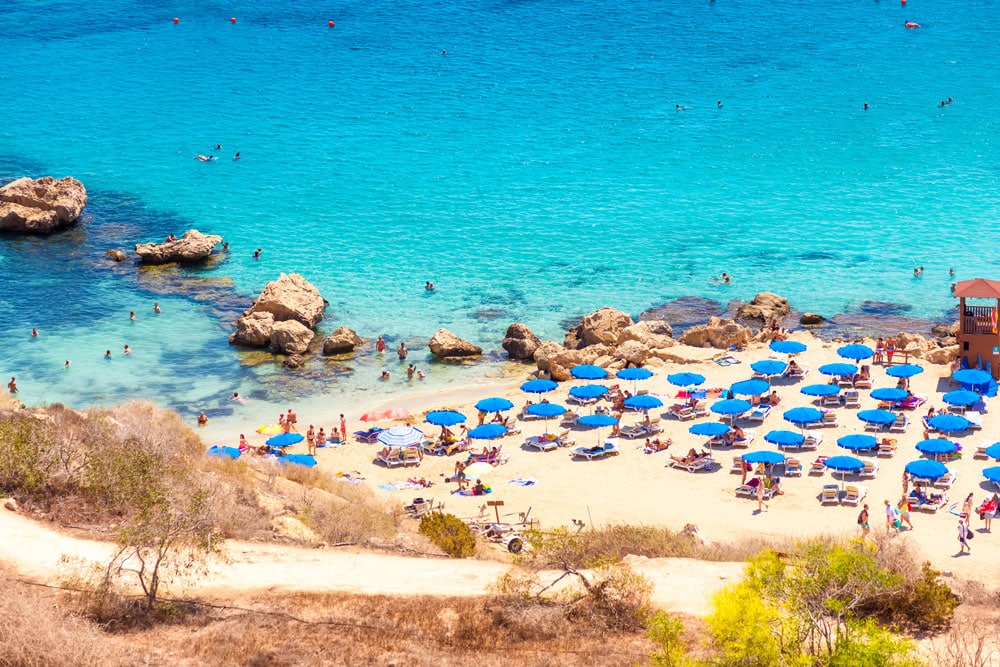 Base yourself in the Ayia Napa area east to Larnaca airport, and dedicate one day to enjoy its sunny beaches and lively atmosphere.
Next day, head east to Protaras area along the coast . Then head west to the village of Lefkara and enjoy the small villages and the historic sites on the way.
On your last day, travel to the capital Nicosia which has a magical atmosphere where the old intertwines with the new. You will find a lot of shopping areas and cafes on the way.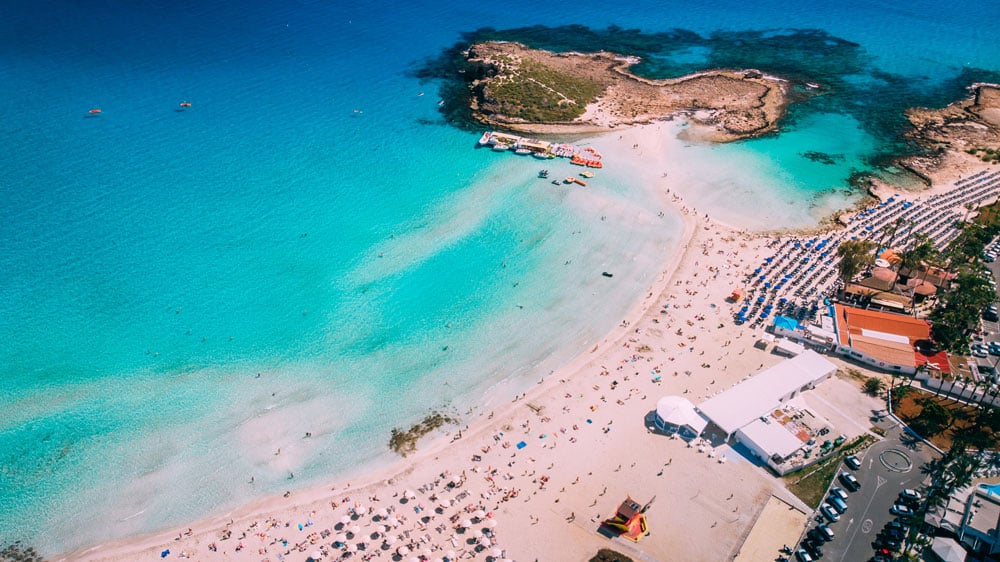 It may be small in size, but it is worth exploring all around. There are many ways in which you can sightsee Cyprus. Since Cyprus does not have a rail system, the best and preferable options would by bus or by car
Going on a bus is a great way to commute. Trans urban buses connect towns and trans buses connect villages and rural areas. You will find urban buses which go within the big cities and towns and even airport transfer buses that pick you up from the airport.
Pay attention that booking a bus ticket ahead is a requirement and in some companies the fee will have to be paid directly to the driver at the exact cost.
If you are traveling with children under 6, then there is no need for extra cost. 
Bus tickets can be purchased for single, daily or weekly journeys. 
Very important to check the busses time table, as their frequency especially in small villages and in some rural areas is not very high.
The following trans-urban routes are served:
Larnaca – Nicosia – Limassol – Larnaca Airport – Ayia Napa – Protaras

Ayia Napa – Larnaca – Paralimni

Nicosia – Limassol – Paphos

Nicosia – Limassol

Larnaca – Nicosia  / Larnaca – Limassol

Paphos – Limassol – Polis

Larnaca – Paralimni – Protaras

Paralimni – Protaras – Ayia Napa / Paralimni – Deryneia – Larnaca / Paralimni – Protaras – Larnaca
Going by car is probably the easiest way to get around the island. The roads are fairly well maintained and road signs are both in English and Greek.
With many car rental companies offering their services, you will always find what is suitable for you. From compact mini size cars to big, comfort family cars and even 4X4 jeeps.
Many cars for hire are found mainly at airports and in big town centers such as Paphos, Nicosia and Larnaca.
Going by car in Cyprus assures you the ideal exploration of the island with prices ranging from 40 euros a day and up to 100 euros depending on the level of your choosing.
Pay attention that crossing with a car to the occupied sideis not allowed. Therefore, it is preferable to cross the border by foot.
Taxis are easy to find mainly in the big city centers and towns. They are easy to book by phone or just by the waving of the hand.
Tariffs can be varied depending on the destination and whether it's a private taxi company or a shared public one.
Just like buses, some taxis go within cities and some connect from one rural place to another.
Important information about Cyprus for you to know
Cyprus is the third largest island in the Mediterranean
It became independent from Britain in 1960
The country is split into two sides: the occupied part by the Turks on the north and the Greek Cypriot on the south.
The oldest wine label in the world "Commandaria" is still produced in Cyprus
Eating and drinking while driving is illegal
Cyprus' capital city Nicosia is the 42nd most expensive city in the world
The country is considered one of the safest countries in the world
Why fly to Cyprus with TUS Air?
TUS Airways is a  Cypriot airline which is based in Larnaca.
It provides many flights departing from Larnaca, Pafos and Tel-Aviv to many destinations.
Book flights with TUS Air and you will be able to shape your next Cypriot vacation.
With various possibilities to travel, we offer you the ability to book your flight from the comfort of your home while giving you the option how you want to fly, various costs and a dynamic timetable.
If you are looking to maximize and make the best of your Cypriot vacation, choosing the right airline for you is where you need to start.
Log on now to our website and search for your spring or summer holiday now.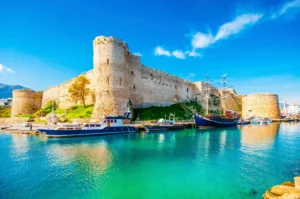 Are you dreaming of a winter escape that combines affordability,
Read More »
You might also be interested
Are you dreaming of a winter escape that combines affordability, luxury, and a touch of Mediterranean magic? Well, the holidays are just …