Many words have been written about it, many have been said about it, and rightly so!
Rome is the capital city of Italy, and one of the oldest cities in the world.
It is located in the center of Italy, offering a glimpse of an ancient history of over 2,500 years that literally revives for a moment the history of the Roman Empire which has greatly influenced Italy and the whole of Europe.
Today Rome is the largest metropolis in Italy and home to more than 2.8 million people, and is considered one of the most visited cities in the world.
Good news in the flight sector!
Getting to Rome is fairly simple and includes a direct flight that takes 3-4 hours from Ben Gurion Airport to Leonardo da Vinci-Fiumicino Airport, Italy's largest airport, located 26 km southwest of Rome.
We look forward to welcoming you on one of our affordable direct flights to TUS Airways.
Because of its history and culture, Rome is one of the oldest cities in the world, and as such every corner of it is filled with relics of antiquities and sites that offer a glimpse of the history of 2,500 years.
Because of the architecture – Rome has its own unique style that is home to diverse designs from different times in city life, this fact ensures there will always be something new and beautiful to discover, wherever you go.
Because of the food – an Italian celebration with traditional dishes as well as innovative ones! Italian food in itself is a good reason to visit the city.
Because of the nightlife – Rome is a non-stop city and its nightlife includes restaurants, bars, and clubs of all kinds that are active until late at night, so if you're a night person, you'll definitely find your preferred style.
Rome has all the possibilities to offer you!
From luxury hotels, four-star hotels to budget backpacker hotels.
Luxury Hotels – In the luxury hotels you can find restaurants, fitness centers, bars and spa services.
Backpacker hotels – from dorm rooms in the city center to private rooms in the guesthouse with a shared kitchen and bathroom.

Accommodation areas for families – The historic district is a good choice for families, as well as the Trastevere neighborhood and  the Aventino and Testaccio neighborhood, which are considered quieter, but still offer the experiences of Rome.

Accommodation areas near Rome's nightlife – Trastevere neighborhood will be a good choice for party people, offering bustling streets full of late night bars and restaurants.
Also in the lively area of  Campo de' Fiori there are a large number of clubs, bars and restaurants, and cultural events (and it is particularly windy during the day with one of the largest food markets in Rome).
In the Testaccio neighborhood, it is recommended to stay overnight if you are looking for music events that are open until late, and of course you can settle into the historic district area which is always alive and kicking!

Women-friendly accommodation areas – Rome is considered a women-friendly city.
Good choices can be the Trastevere neighborhood known for its nightlife and charming streets or the Campo de 'Fiori neighborhood where a colorful and diverse food market is also located, and a large number of bars and restaurants.
Between us, what are we going to Rome for if not for Italian culinary?
Pizzas and pastas are obvious and understandable! But it's really not the only thing that the food scene in Rome has to offer…
Rome is famous for its diverse culinary offerings characterized by the use of fresh raw materials from the local selection,
and offers a large number of dishes that you simply can't miss out on! Open the day with a pizza, stop for lunch at Carbonara's and a glass of wine, have an afternoon snack with arancini balls, and head over to dinner, indulge in lasagna or risotto, and of course for Italian ice cream dessert, sounds good?
Street food in Rome – Rome is also known for a huge street food scene. Want to eat like a local? You have to try the soufflé- fried risotto with cheese and tomato sauce (a real celebration in the mouth!) and the panelle – Italian chickpea frittata with cheese (how not).
International Culinary – In addition to traditional cuisine, the culinary tradition in Rome is also influenced by international cuisine, so you can find a variety of Chinese, Indian, Mediterranean restaurants (and also Israeli if you miss them).
Food markets in Rome – in the main food markets you can purchase the Italian raw materials – enjoy a variety of fresh vegetables, meat and fish, and have a face-to-face encounter with the local traders and farmers.
Which attractions should not be missed when visiting Rome?
The Coliseums one of Rome
Rome's most recognizable sites. The Coliseum is an ancient amphitheater built in the first century AD, and was mainly used for gladiatorial battles and other public events of the time. Nowadays it is by far the most popular site in Rome.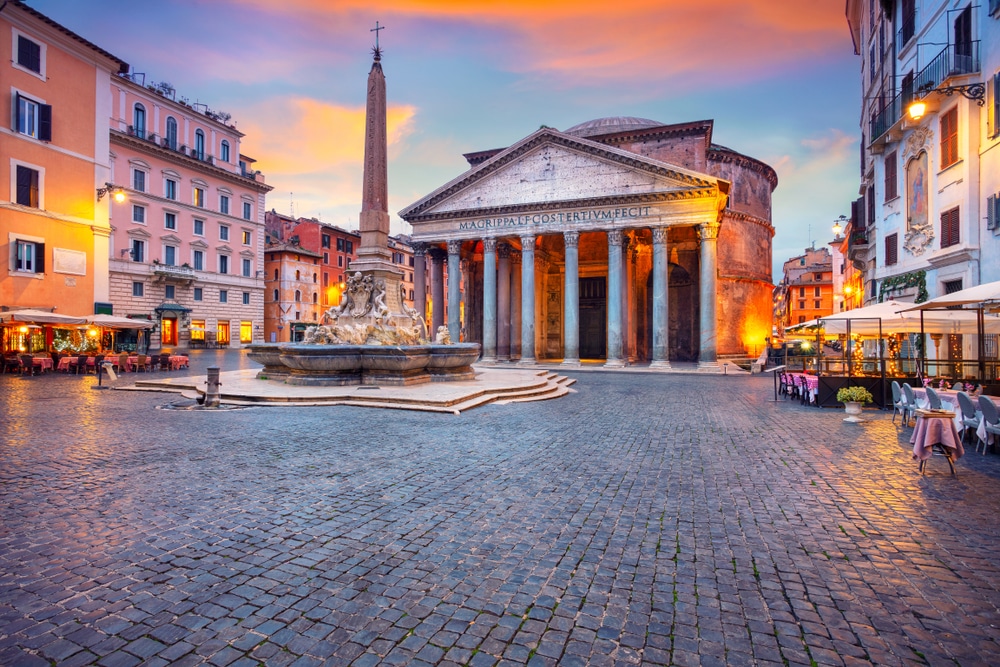 Is an age-old structure considered the site of the highest level of conservation in Rome. Many are the most powerful and because of its level of preservation, visiting it allows you to view an impressive architecture that is considered the most advanced for the period it was built.
Stands in the center of Rome and has an impressive fountain, built in the 18th century, with a baroque design unique only to it.
Legend has it that throwing a coin into it, promises that one day you'll return to Rome (I'd say it's worth a shot).

The smallest country in the world has a lot of character! A visit to the house of the Catholic Church will bring you into a world of beauty, history, art, and cultural journey.
Rome is a well-developed and convenient public transport system that includes buses, train, taxis and metro.
Metro – The metro is an easy and convenient way to get around, with the tickets you can purchase at the various kiosks scattered around the city, at the metro stations, or via the  Easy Metro Rome app.
Buses – Buses in Rome are a convenient way to get around, and are active from early morning until midnight. You can buy tickets to them just like metro tickets at the various kiosks or stations. You can buy a one-time ticket, a daily free ticket, or a long-term ticket with more trips.
Taxis – In Rome you can always find taxis available on the streets, or use the Uber ride app.
Bike – Roma has a number of collaborative bike rental options, through which you can rent short term bikes.
Electric scooters – Like many of the world's major cities, an electric scooter that can be easily rented using an app is definitely available to you in Rome as well.
Walking – The city center is convenient for walking and allows for getting around on foot between the main sites.
The summer of Rome is warm and humid with temperatures ranging from 25-30 and similar conditions to the Israeli summer, while the winter temperatures range from 5-11 with rain and wind.
In between, you can enjoy the transitional seasons with favorable weather conditions and temperatures ranging from 18 to 28 degrees.
But make no mistake, no weather stops tourists from coming to Rome all months of the year, with the most popular times to visit being the summer months (June-August) and the holidays (December-January).
For art lovers, history lovers, and anyone interested. Do you want to visit museums in Rome? The answer is yes. Rome is home to world-renowned museums, with a wide range of exhibits and arts. Starting from the magnificent Vatican Museum, expansive art galleries showcasing works by Italian artists are considered, and a national museum containing pieces of ancient history and culture.
Rome – Rome is considered a safe city for tourists. However, it is advisable to remain attentive and alert to your personal belongings, especially in areas packed with tourists.
There are goals you don't have to think twice about, and Rome is totally one of them!
If you're looking for a vacation that has everything, including history, art, culinary, cultural, festivals, and markets, we're happy to let you know that you've found your destination.
You might also be interested
The current query has no posts. Please make sure you have published items matching your query.